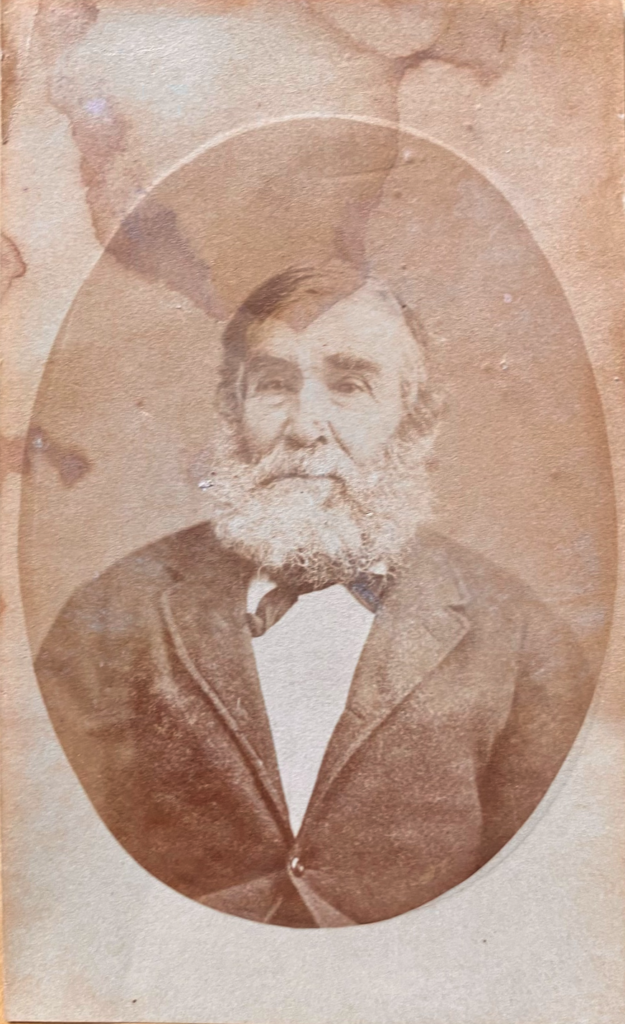 I've had an autosomal DNA test on Ancestry since 2019, although I tested earlier with FamilytreeDNA and the Geneographic Project.
I find the Ancestry ThruLines feature very useful in exploring matches, and I've been gradually trying to confirm the relationships and link the matches into my tree. It was a ThruLines connection that suggested that William and Margaret Berry (nee Greig) may have been accompanied to Australia by William's sister Barbara. I reached out to Barbara's descendant, who kindly replied, and I also explored the Hints for William Berry. One of these was a photo of a William Berry. I contacted the submitter of the photo, Lis Dempster, and she confirmed that she was a descendant of Barbara Berry,
Lis very graciously sent me a higher quality copy of the photo, and also the accompanying letter, transcribed below.
Burnett St. Ipswich 30/8/82
Mrs. W. Biddels
Dear Madam
I duly received yours of Decr. last and felt interested in your Narrative there are often many ups and downs in a lifetime & the early part of yours has not been an exception. I hope you are in better health than when you wrote & that husband & family are all well. When we enjoy this blessing we have heart to Brave trials that we think insurmountable – may you enjoy the fortitude not only to bear patiently present trials but to press toward the mark for the prize of the high calling, striving to bring up yours in the fear and admonition of the Lord.
The power of Sir Henry has brought your country under the notice of the world – his has been an eventful life and I reckon he is as poor as a church mouse as the saying is he nevertheless stands before kings and not before mean men.
I have been rather poorly lately but am pretty well again. I cannot expect robust health after 72 years I have had the alloted span, many and good days, many & great mercies and blessings which I cannot recount.
William has not wholly recovered yet he had to leave the Grammar School. He is secretary to our gas company. He has also taken his degree of M.A. We are all ploding along after a few unpropitious years but we must hope on. I have nothing particular to relate. We have had no news from Abdn. lately. I enclose my Photo. to show what I am like-it is a month old. Please show it to your mother. Give her my best respects. Her brother and sister would be glad to hear from her if she would condescend to write.
Wishing best blessings to you all
I remain your affectionate uncle
Wm. Berry.
William dies on 18 April 1887, so this letter is written just under five years before his death.
Mrs. W. Biddels is Barbara McKenzie Biddles (nee Munro), who married William Biddles on 15 August 1872 in Sydney, New South Wales. Barbara was the daughter of William Berry's sister Barbara, who married William Munro on 3 August 1848 in Sydney, New South Wales.
The other William mentioned is his son, who died in 1884 at the age of 35. William, junr., was academically gifted, was one of the first pupils at Ipswich Grammar School, and became a staff member there. He obtained a B.A., and then M.A., from the University of Sydney, but suffered from ill-health.
William Berry, senior, clearly has contact with his family back in Aberdeen, and the brother and sisters referred to are likely to include John, Elspet, Isobel, and Jean.
The Sir Henry referred to is Sir Henry Parkes, father of Australian federation.