Borderless Empire : Dutch Guiana in the Atlantic World, 1750-1800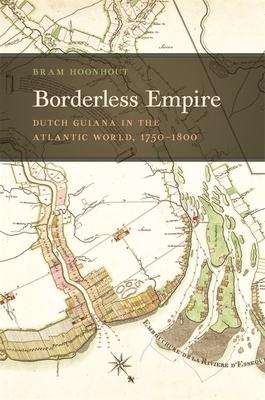 In 2015, Bram Hoonhout, then a PhD student working on the 18th century history of Essequibo and Demerara, alerted me to the existence of references to Hendrik, Jan and Nicolaas van Cooten in the letterbooks of Theodore Barrell, a merchant in Demerara.
He was able to supply images, and my transcription is now available here. The page image is made available with the permission of the New York Historical Society.
Bram has now published his history – "Borderless Empire : Dutch Guiana in the Atlantic World, 1750-1800". The description at bookdepository.com reads:
Borderless Empire explores the volatile history of Dutch Guiana, in particular the forgotten colonies of Essequibo and Demerara, to provide new perspectives on European empire building in the Atlantic world. Bram Hoonhout argues that imperial expansion was a process of improvisation at the colonial level rather than a project that was centrally orchestrated from the metropolis. Furthermore, he emphasizes that colonial expansion was far more transnational than the oft-used divisions into "national Atlantics" suggest. In so doing, he transcends the framework of the "Dutch Atlantic" by looking at the connections across cultural and imperial boundaries.

The openness of Essequibo and Demerara affected all levels of the colonial society. Instead of counting on metropolitan soldiers, the colonists relied on Amerindian allies, who captured runaway slaves and put down revolts. Instead of waiting for Dutch slavers, the planters bought enslaved Africans from foreign smugglers. Instead of trying to populate the colonies with Dutchmen, the local authorities welcomed adventurers from many different origins. The result was a borderless world in which slavery was contingent on Amerindian support and colonial trade was rooted in illegality. These transactions created a colonial society that was far more Atlantic than Dutch.
Bram's book has gone straight to my wishlist!
I'll work through the information in the Theodore Barrell letters in future posts.